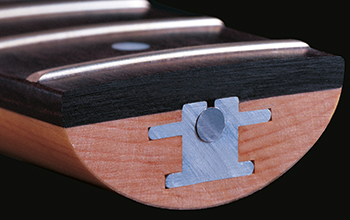 H-Expander
All Hagstrom electric guitars and basses include our patented H-Expander™ truss rod. Providing tension at both ends and running the entire length of the neck, the rigid yet light-weight alloy truss rod allows for a very low action and thin neck, two factors that were instrumental in earning Hagstrom its reputation as the world's fastest playing guitar. The H-Expander™ truss rod not only provides ultimate neck stability, but it also contributes to Hagstrom's unique tone. Longer sustain and a round attack are some of the sonic characteristics the H-Expander™ adds to the tonal essence of Hagstrom.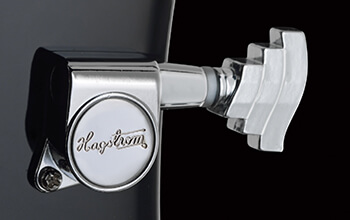 Hagstrom Machine Heads
Hagstrom models use 18:1 or 15:1 gear ratio machine heads based on our own designs to insure accurate tuning. Viking® and HB series basses feature machine heads with a 17:1 gear ratio.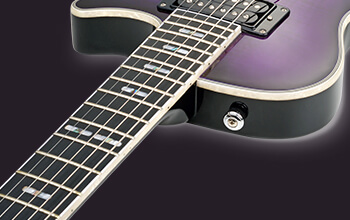 Resinator Wood
Resinator™ wood is a wood composite material that is both more uniform in density and more stable than any standard wood product. These characteristics eliminate dead spots or "wolf tones" sometimes associated with conventional wood fingerboards. Resinator™ wood has an articulate sound similar to high quality ebony, but without any of the problems associated with ebony. It provides a stable and clear tone, and also adds higher overtones and harmonics which uniquely detail each note. Like our H-Expander™ truss rod, Resinator™ wood is a major contributor to the distinctive "Hagstrom tone".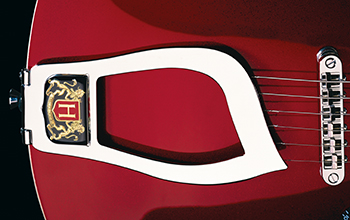 Trapeze Stringholder/Tailpiece
The classic Viking® trapeze stringholder/-tailpiece design, is a work of art in itself. Right underneath the top part, where the two beautifully swept beams meet, it features a string claw for easy access and super comfortable string changes. Adorned with the legendary Hagstrom crest it truly is elegance defined.